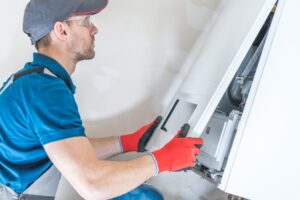 Imagine this—you're sleeping soundly one night after a delicious Thanksgiving meal, or after celebrating the holidays with the extended family, and you're suddenly woken up by a strange noise. You're awake enough to tell that this noise is coming from your furnace, but the intensity and nuisance of this noise signals to you that there's something seriously wrong.
If you're reading this, then the good news is you've made it far enough to do something about it. Noises that come from your furnace almost always signal that you need furnace repair in Plano, TX, but a few noises are worse than others.
Today, we're going to focus on one noise, in particular, that seems to be a common occurrence in older gas furnaces—the booming noise. If your furnace sounds like it's exploding on a semiregular basis with booming noises, then we're going to tell you why this can be a nightmare if left alone.