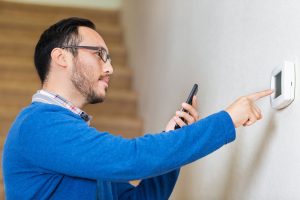 In an ideal world, your air conditioner will be able to cool your home without the help of you or your thermostat. Your AC would be able to know exactly what your comfort standards are and meet them. Wouldn't that be amazing?
Unfortunately, the world is a bit more complicated than that. Machines can't read our minds (yet) and we're still finding technical problems to the maximized efficiency and efficacy of our comfort systems. You can try to run your air conditioner efficiently without smart thermostats in Plano, TX—but it won't work.
Smart and Wi-Fi thermostats are the next generation of advanced comfort technology. They can more easily adapt to our custom temperature patterns and learn what we like and what we dislike. These systems aren't just convenient, they're efficient at curbing our energy consumption when it comes to comfort. Keep reading, we'll get into the details.