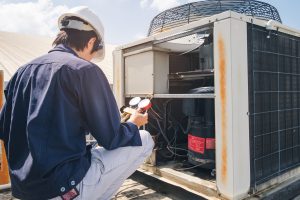 Commercial air conditioners are incredibly powerful these days. They have the ability to keep entire buildings at low, comfortable temperatures no matter what the heat is like outside. Seriously, compared to how commercial air conditioners used to function, they're more than able to keep buildings cool for long periods of time at the lowest possible energy consumption rate.
That being said, we see business owners time and time again forget some key responsible practices that drive their commercial air conditioning in Plano, TX into disrepair. If you're fighting the heat on a hot summer day and you've got your commercial AC system running at full blast, pay attention to some of the things you could be doing to make its job easier.
Remember, if you need help, don't hesitate to call the pros at Hutchins Plumbing & Air Conditioning!
Spare No Expense
Often times, problems with inefficient commercial air conditioners boil down to building or business owners trying to save money. By cutting costs on things like smart thermostat technology, or maintenance appointments, you're really jeopardizing the lifespan and efficiency of your air conditioner. These are just hard facts. Take a look at our list below for some things you can do to help increase the efficiency of your commercial AC.
Invest in Smart Technology
As we mentioned earlier, many building owners don't think automated thermostat technology will help them, and that it's only for convenience. While these systems are convenient, they're also important for efficiency levels as well. Smart, programmable thermostats can be used to monitor your building's cooling habits and automate them. That includes lowering energy consumption during the night time and increasing it when things get hot. This will save you more money than you think!
Scheduling Commercial AC Maintenance
Commercial air conditioners are robust systems, but yearly routine maintenance is something that's vital to the longevity of the unit. We know many businesses or building owners think of maintenance as an additional optional service, but it really is mandatory. Without this service, you're bound to run into unexpected and expensive problems, as well as earlier retirement age for the system.
Keep HVAC Systems Clean
Many building owners think we just say this to make it easier for us when we need to work on your system, but that couldn't be further from the truth! Commercial air conditioners require a lot of airflow to keep your building cool. That means if there's any storage or junk on the roof of your building that interferes with the rooftop unit, you'll be restricting the airflow into the building. Keep air vents cleaned and dusted, and make sure that there aren't any areas that are dirty. Remember, dirt and debris doesn't just decrease the overall efficiency of your system, but they get recycled and dumped back into your indoor air, which means your air quality suffers as well.
Do you need help keeping your system efficient? Don't hesitate to call us and let us improve your efficiency levels.
Contact the team at Hutchins Plumbing & Air Conditioning for reliable commercial AC work. Get it done right… Right now!