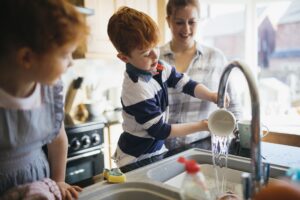 What an exciting time of year! Sometimes it can feel good to take a step back and be grateful for all the friends and family in your life. The holiday season is a great period of time to relish in the love and joy that we all spend together. Whether you're a big gift giver or the person spending countless hours in the kitchen, we appreciate you and are grateful for your support!
Now, one thing that can really dampen the feelings of this season is a clog in the drain. Drain clogs are a timeless buzzkill, easily popping up at inconvenient times and usually when the whole family has arrived for a big dinner.
Let's discuss some preventative ways to prepare your drain for clogs and also to remove them before they impact our life. Sound like a good idea? Great, let's get started.
Use Preventative Methods
Preventative methods are great for stopping drain clogs from ruining your holiday. This is because preventative methods like the ones listed below specialize in helping your plumbing system last for as long as possible in good shape. As long as you pay attention to these following points and try to do your best at keeping things from clogging up your drain, you stand a good chance of making it through this season clog-free!
Mesh screens. Mesh screens are one of the cheapest and easiest ways to stop drain clogs from forming in the first place. They can just be placed over whatever drain entrance you have, and they'll stop contaminants that are large enough to cause clogs from entering your plumbing system. If you need help setting one of these up, or if you can't find them anywhere, give our team a call and we can get you situated.
Garbage disposals. Garbage disposals are nifty systems that grind down contaminants to make them easier for your plumbing system to digest. If you think you could use one of these, then we can install them for you.
Plungers and drain snakes. Plungers and drain snakes are great tools to have around your house for any drain problems. From slow drains to clogged drains, a drain snake or plunger used appropriately can mitigate the problem temporarily while you finished the rest of the dinner you're cooking. But none of these can come close to the drain cleaning services of a trained professional plumber.
Regular Drain Cleaning Can Help
If you're already nervous that your drain system might be having trouble, then we've got a solution for you. Drain cleaning services offered by our team can pre-emptively clear out your drainage system of any contaminants that might be forming clogs. With this type of service, you can be 100% certain that your drain is in good shape for the holiday season.
We can even perform drain cleaning services on a regular basis so that homeowners get this kind of protection every year at one low cost per year.
Contact Hutchins Plumbing & Air Conditioning for an expert plumber in Carrollton, TX.