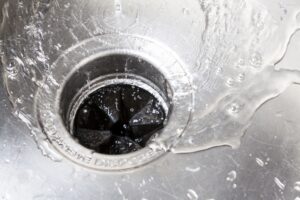 We're going to be honest, we've never met any homeowners that didn't absolutely love their new garbage disposal. That's because these kinds of systems are just so convenient and efficient, that there's really no reason to not want one. If you'd like to know more about them, then we can absolutely cover the essentials that have to do with garbage disposals in this blog post.
More importantly, we'd like to cover why we're the best team to install your new garbage disposal. After all, you might be able to find a garbage disposal model, and find some DIY tutorial online or pay the same contractor you have been for a quick installation. But is just doing "what you've always been doing" for plumbing in Plano, TX really the best mentality to have?
No, we don't think it is.
How It Works
For the uninitiated, garbage disposals work by grinding up any food waste that might be persistent in your kitchen drains, until they're digestible by your plumbing system. What this means, is that whatever food waste that would normally clog your kitchen drain and cause you problems down the line, is actually turned into a paste that can be easily cleaned from a wastewater facility in your local municipality.
Not only is this an incredibly convenient method of getting rid of waste, it works in two additional beneficial ways.
The first is that it limits the amount of waste that goes into the trash and provides an environmentally friendly path for some of our garbage.
The second is that it actually keeps your plumbing intact and is a valuable way of maintaining the good condition of your drains!
Get Your Garbage Disposal Set Up the Right Way
So, now we get to the question that everyone has been wondering. Why us? What's the difference between our garbage disposal service and the service from the big company you usually work with? Well, here are just a few reasons why people rarely ever go back once they call us for help.
24/7 Emergency Service. Nobody wants to have to call a different contractor for help with a garbage disposal when it's on a holiday or a weekend night. That's why we provide emergency services at all hours of the day, so you can have access to the same quality you're used to on your schedule, not ours.
Experience. We've been installing garbage disposals since they were popular in the seventies. In 1975 Danny Hutchins opened our business right from his garage, which then went on to become a successful HVAC and plumbing company built on serious principles. Even though Danny is retired, we still carry his experience and expertise on every job we do to this day. That includes garbage disposal work.
The breadth of our services. Can you imagine how dangerous our world would be if you had to call several different numbers for an emergency, instead of just 911? Our team can be your go-to crew of experts for your garbage disposal, as well as electrical work, heating, cooling, and much more. Don't make your life more complicated than it has to be.
Call Hutchins Plumbing & Air Conditioning to get it done right… right now!