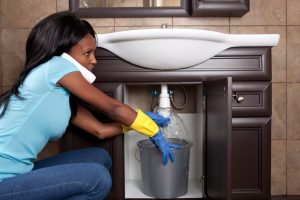 When it comes to misinformation on the internet, how-to guides and do-it-yourself articles are the worst—they make any project sound easy!
We don't doubt that you're handy and capable of handling a few DIY projects, but when it comes to plumbing projects, we want to warn you: Most DIY projects will have you spending far more time, money, and effort than you intended.
If you have a plumbing problem, skip the Google searching and call a professional plumber in Plano, TX. Below are a few reasons why your time is better spent somewhere else.
Knowledge and Expertise
First, you'll spend hours doing research. You might look at several different how-to guides on the same topic, just to make sure that you aren't missing any details. After you feel comfortable, you'll decide to follow the best guide and get to work.
Not only is it risky to follow a random guide online, you're also wasting time by trying to learn what a plumber already knows and has mastered.
Tools and Parts
Next, you'll have to buy your supplies. You go to the hardware store and might need help finding some of the tools. It might be more expensive than you anticipated (and you're not even sure if you'll need this tool more than once). Then, you find that this store doesn't have the part you need. You start to call around and find that the only store that does have the part is in another town. You consider buying the part online, but that will take days to deliver.
A professional plumber has the tools and parts so you don't have to. Plus, they already know how to use them.
Experience
Once you assemble your parts and tools, you get down to doing the dirty work. An hour later, you realize that your DIY problem is a little bit different than the guide you're reading online. The project isn't turning out the way you hoped it had. That guide, after all, was written with general knowledge and not with your situation in mind. Now you're stuck, unsure if you should try to proceed or if you should stop and ask for another opinion.
A plumber doesn't just know plumbing—a good one has years of experience and an understanding of how these systems work together. Experience is what makes all the difference in these situations.
Time and Money Lost
At this point, you can start weighing the costs of your DIY project vs if you had called a professional in the first place. Learning what the plumber already knows and then driving all over town to find the right parts probably ate a few hours of your day. After getting stuck trying to fix the problem, you might be tempted to go on. Nothing is more frustrating than leaving a job half-completed, but at a certain point, you have to cut your losses and move on.
Don't waste time with DIY. Get it done right… Right now! Contact Hutchins Plumbing & Air Conditioning today.