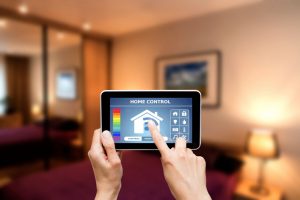 In the past, every home was a collection of independent and manually operated systems. The only device you had to control your house at a distance was a garage door opener. With the increasingly fast pace of innovation, however, home technology integration has arrived in a big way. Now you can monitor and adjust a variety of your home's systems automatically as well as from apps on your phone or computer. We'll look at three of the most popular ways to make your home smart. 
3 Ways to Make Your Home Smart
When it comes to the different types of systems below, there will be a variety of options available on the market with varying costs and a wide range of features. You can certainly do all the necessary research yourself to decide which ones are best for you. Or, you can contact trusted electricians in Allen, TX to let them assess your needs and make recommendations.
1. Smart Security
There is an umbrella of features which can be rolled into a smart security system, all of which can be monitored from your phone or computer as well as archiving live video streams using cloud storage. At the most basic level, this includes cameras placed in different locations inside and outside your home.
Smart doorbells have cameras in them which activate when someone approaches the door or rings the bell so you can see who it is wherever you are. Smart locks allow your phone to automatically unlock doors instead of leaving you to fumble with keys while balancing an armful of groceries. Plus, you can check your locks from anywhere in case you're afraid you accidentally left a door unlocked.
2. Smart Thermostat
Smart thermostats automatically track activity in your house and adjust temperatures accordingly when family members get up or go to bed. Plus, as an adaptive system, they learn when you leave and return home and heat or cool it as necessary.
Smart thermostats are especially useful for vacation homes as you can monitor temperatures from anywhere to make sure they do not become too high or low. Plus, when you're arriving for a weekend getaway, the temperature will be just right when you get there.
3. Smart Lights
Smart lights combine security and convenience. Interior and exterior lights can be set up on timers in conjunction with motion detectors. Or, you can make sure all the lights you want on are illuminated when you're coming home after dark. If you choose LED lights, some brands are rated to last 15,000 hours on average.
Home Automation Systems Installation
If you decide to make your home smart, don't leave the installation of home automation systems to just anyone. We've been here over 40 years, and we're proud to be the trusted go-to company for all your home-related system needs. We answer the phone 24 hours a day, and our rates are the same even on nights and weekends.
Contact Hutchins Plumbing & Air Conditioning for home automation services today!