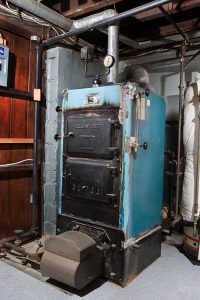 Are you so excited to replace your furnace that you can't even sleep at night? When you're at work, you can't think of hardly anything but your brand-new, shiny furnace?
Well, okay, maybe that's just us… We are an HVAC company after all.
But if we told you that a brand-new furnace could substantially cut your heating and energy costs, then maybe some of our enthusiasm could be contagious.
The tricky part is knowing when the best time to replace your furnace actually is. After all, no one wants to replace it sooner than they really have to it. But on the other side, replacing it too late is not going to wise for you financially.
So, down below, we've listed our tips on figuring out when the best time to replace is.
Check With Your HVAC Contractor
This sounds like a cheap excuse for an answer, but we couldn't be more serious. Perhaps the easiest and most effective way to determine if you need a new furnace is simply by having your HVAC contractor come over and take a look. They'll be able to inspect the furnace determine when it was made and estimate how much time it has left. Then, they can help you assess your current heating bill against the cost of a new unit. It might just turn out that installing a new furnace is your best course of action. Or, maybe they'll estimate that you have another half a year or more. It's the kind of thing that only an expert of furnaces in Frisco, Texas can tell you.
Check the Age of the Furnace
The general rule of thumb is that you should start keeping an eye on your furnace's performance after the 10-year mark. This is about the point where furnaces start declining. Depending on how well it has been maintained up to that point, it could be declining faster than you anticipate.
The main thing to remember here is that there's little use in investing in significant repairs, maintenance, or replacing parts in your furnace if it's older than ten years old. It simply might not be worth it at this point. Of course, you'll want to doublecheck that with your preferred contractor, as it's very possible for some furnaces to keep performing well beyond even the 15-year mark.
Check Your Monthly Spending
When it comes down to it, there's nothing more objective than looking at the cold hard cash. If your current furnace is costing too much money, you need to get rid of it ASAP. Here's the general rule for that:
Combine the monthly cost of your furnace with the cost of repairs and maintenance.
Compare it to 50% of the cost of a brand-new furnace.
If the costs to run your current system is more than that 50%, then you'd be better off making the upgrade.
As always, be sure to run your estimates by a professional. Not only can they help you with all of the calculations, but they can also recommend you a new furnace that fits your budget and expectations for comfort.
If you're in the market for a new furnace, Contact Hutchins Plumbing & Air Conditioning today.