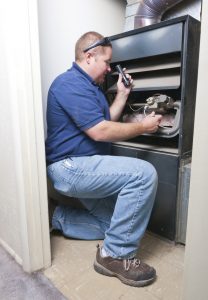 Furnaces tend to come in two forms: gas-fed furnaces which rely on natural gas for their fuel, and electric furnaces, which depend on power from your home's electrical grid to function. Gas-fed furnaces make a lot of sense for city and town residents who have access to municipal gas lines.
But for those homes outside the civic grid – and we have a number of them in our area – the electric furnace makes a much easier option. It runs on your home's electrical grid – a vastly simpler way to provide heat – which unfortunately entails its own set of parameters when it comes to repair. If you own one, and it needs repairs, make sure you contact a professional who knows how electric furnaces work.
No Burners
Electric furnaces use several different methods to warm the air. Some use metal warmers heated by electricity, similar to the coils that warm most electric ovens. Other rely on a system that forces air through a heat exchanger, similar to the way a hair dryer works. Electric furnaces benefit from being more resistant to breakdowns, which helps them last longer, and they don't generate carbon monoxide like gas furnaces do. But problems with the system can be unique, and require a company who can address those specific problems.
For instance, many issues with gas furnaces can be traced back to clogged burners. It reduces the heat levels and forces the system to work harder to warm your home. A technician examining the causes of heat loss in a gas furnace would likely check there first to see it that's the cause of the trouble. But an electric furnace has no burners, making such a problem more difficult to pinpoint. A technician trained in those types of system – knowing where to look and which components lead to heat loss if they malfunction – will track the problem down quite readily, without having to fumble around.
Repairs Tend to be Serious
Because electric furnaces are more durable on the whole than gas furnaces – with fewer moving parts and less capacity for wear and tear – they don't tend to break down as often. But when they do, it's usually a serious operation, often requiring a new component or something similar. Furthermore, because electric furnaces tend to be found in rural homes, a breakdown can prove catastrophic. You need a service that's going to respond quickly and do the job right: with the right set of skills and the experience to back them up.
This is all the more important now, when heating season is coming to an end, and your furnace is finally able to stand down. Any issues you may have with your electric furnace should be dealt with now, when you have plenty of time to schedule such repairs, instead of next fall when time is of the essence.
If you own an electric furnace in the Plano, TX area and it needs repairs or servicing, call on the friendly professionals at Hutchins Plumbing & Air Conditioning to make an appointment!