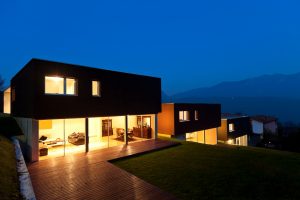 The arrival of spring in a few weeks means better weather and more time spent outdoors. If you're a homeowner, that means looking at possible projects to help your home function better and improve your quality of life overall. Outdoor lighting systems are a key part of any household for an umber of reasons. And if your yard could use a little illumination, then contacting an electrician in the new few weeks to discuss your options makes a whole lot of sense.
Your yard is an important part of your home, but it often gets overlooked when it comes to home improvement projects. And outdoor lighting can put a drag on your quality of life if it's not up to snuff. A qualified electrician can look over your property with you, discuss your options, and make a plan to improve outdoor lighting considerably. Every home is different and your outdoor lighting needs are likely to be unique. No matter what you have in mind, though, a trained professional can help.
Landscape Lighting
One of the big benefits of outdoor lighting is how it can improve and accentuate the visual beauty of your yard. It can mean installing lights that highlight planters or other features, as well as lighting intended to create specific effects: like creating a lit path through the locations in your yard. But it also means more practical things as well. Lighting a basketball court, for instance, or a children's swing, lets you and your family enjoy those warm summer nights well after the sun has gone down.
Convenience and Security
Outdoor lighting can also serve as a form of security to keep your home safe. Burglars and thieves thrive in the dark, and would like nothing better than to approach a darkened house to scope it out and mark it as a target. Security lighting installed outside can send them scurrying off in search of easier targets. Most security lights can operate on motion sensors, which means they'll turn on automatically whenever they detect motion. They can also be tailored to respond only to man-sized beings, which means they won't get triggered every time a raccoon or neighborhood cat wanders through.
The same principles apply when you arrive home at night after an evening out. No one likes fumbling around at the front door in the dark, and it's easy to forget to leave the porch light on when you go out. OUtdoor lighting designed to work on a timer allows you to turn on a lighted path to your front door as soon as you pull up, ensuring that you can get into your home safely and conveniently without having to fumble around outside.
If you'd like outdoor lighting installed in your Plano, TX property, or you already have outdoor lighting in place and require some upgrades, call Hutchins Plumbing & Air Conditioning today to make an appointment. We'll go over your options with you and help install or upgrade an outdoor lighting system that suits all of your needs!