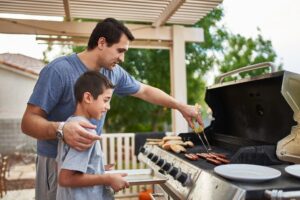 Temperatures are reaching record highs all over the country, which means it's up to us to keep things cool and comfortable. Your air conditioner is a large part of that process but it's really not the only piece. You're going to need to work hard in order to keep things comfortable in the case that your AC stops working, or if you're looking to ease the burden on the system.
Look, many of the tips we're going to give today on staying cool are probably self-explanatory. But we think they're worth discussing in the off-chance that you've never heard of them before. If you need help with anything else, you can also call our team for AC repair in Plano, TX. All we care about is making sure everyone in our area is comfortable, safe, and happy.
Let's work together to stay cool this summer!
Stay Hydrated
Water is essential when temperatures get hot. We start to sweat more, especially when things are humid, and that can cause us to lose our body's supply of water quickly. That then makes it easier to come down with heat stroke or heat exhaustion, which can have numerous health effects that are negative.
Drinking water doesn't have to be boring! Why not make some yummy lemonade or other tasty drinks that can be flavorful and fun while keeping everyone in the family hydrated?
Change the AC Air Filter
Your air conditioner is going through a lot right now, which is why we urge customers to change the air filter every 1-3 months depending on how heavily it's used. Since most of us are relying on these systems every day, it makes sense to change the filter monthly to ensure it's running at peak efficiency levels.
Run Ceiling Fans
Your air conditioner shouldn't be the only thing you depend on when things get hot. It's definitely worth it to raise the temperature a few degrees on your thermostat and run a fan to even things out a little bit. This will allow your air conditioner to run efficiently and not have to keep your entire home cool to a certain point, while letting a fan do the cooling needed to get things to a comfortable level. Ceiling fans use less electricity than an air conditioning system, so you'll see the difference in your budget.
Evaluate Your AC's Performance
When things get hot, it can feel like things just aren't working the way you'd like them to. However, air conditioners are specifically designed to keep your home cool and comfortable. If it can't, then that's the reason to get it either repaired or replaced.
We want you to evaluate the performance of your system and make sure it's running as it should.
Block Out Sunlight
On especially hot days, we recommend using shades and curtains to block out the sunlight so your home can stay cool. Sunlight might look aesthetically pleasing, but it brings with it hot air that can quickly up the temperature of your home.
Call Hutchins Plumbing & Air Conditioning to have your AC fixed or your home comfort improved. Get it done right… Right now!