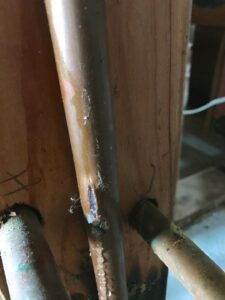 We hope everyone out there is getting along alright. This has been a very hard few weeks for homeowners in the Plano area, and we just want to tell you that we're here for you. Give us a call if you need help, and make sure you're in contact with loved ones so we can all get through this together.
If your pipes haven't already frozen from the cold spell we've received, then you're one of the lucky ones. But you might not be lucky for long. If you're looking to avoid having to call us for piping in Plano, TX, then let's talk about insulating pipes.
It might not be as hard as you think to keep your pipes from freezing, and we'll tell you everything you need to know going forward. Just remember to call us if you need help!
Insulate Your Pipes
Pipe insulation doesn't have to be complicated. Our team can provide specialized pipe insulation, or you can even buy these kinds of materials yourself. Hardware stores offer pipe insulation that you can wrap around your outdoor pipes to ensure they remain unfrozen throughout the rest of the winter.
If you need a quick fix, a pool noodle and some duct-tape could help. Cut open the pool noodle, put it over the piping, and seal it tightly with the duct-tape. While it's not the best solution, it's a solution that will at least keep things relatively insulated in the worst-case scenario.
Keep Kitchen Cabinets Open
When your kitchen cabinets are closed, they can get incredibly cold. They don't have access to the airflow from your heater, and they're very close to the exterior of your home, which means they'll get a lot colder than you think. On those very cold days, you can help by keeping the cabinets open to allow for proper airflow. With your heater churning out enough heat for your whole home, it's important to have that reach the sensitive areas of your kitchen and bathroom like your cabinets.
Leave Bathroom Doors Open
Don't forget about certain rooms! Bathrooms, closets, and other tucked-away rooms generally don't have as much access to heat as other areas of your home. Sometimes they can get very cold and any pipes that lie near them can get cold as well. Keep bathroom and closet doors open to ensure that pipes stay warm and that your heater has access to all the rooms in your home.
Call Us for Everything
Here at Hutchins Plumbing & Air Conditioning, the community comes first. It doesn't matter if you're afraid of your pipes freezing, or if you're dealing with pipes that have burst open and are starting to leak, we can help. We keep things affordable and our work is fast and effective, so we promise we'll be able to help as long as you just give us a call. Let's make it through the rest of this winter together.
Hutchins Plumbing & Air Conditioning can help with your cold pipes during this crazy season. Just call us today. Get it done right… Right now!