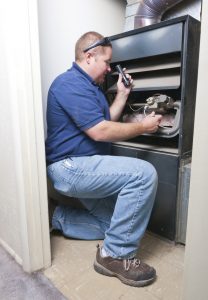 With fall officially here, most residents are turning off their air conditioners and turning on their heating systems. We don't get quite as cold in the winter as communities further north do, but freezing temperatures and chilly nights are still the order of the day. That means your heating system needs to perform as expected every time you turn it on. If there's a problem you want to find out about it now instead of having to deal with an unexpected breakdown in the middle of January just when you need your heating system the most.
A layman should never attempt to repair a faulty heating system, nor try to diagnose what a specific problem might be. Both activities require formal licensing and training to perform properly. However, most homeowners are familiar with how their heating system works and they can still spot signs that something is wrong.
Now is the best time of year to check for such symptoms, since you're likely running your heater but don't need it as badly as you might in a few weeks. If there's something wrong, you still have time to get it fixed by a professional repair service before the winter hits. Not only does that ensure the system works throughout the winter, but it prevents you from having to scramble in the face of a more serious breakdown.
Such signs can include, but are not limited to, the following:
Low Heat Levels. If you turn on the heater and cool air comes out of the vents, you probably can tell something is wrong. But the same principle holds true if the air is warm, just not as warm as you expect. It forces the heater to work harder, raising both monthly bills and strain on the rest of the system. Ir can be caused by
Low Air Flow. Similarly, if the air coming out of the vents isn't moving as swiftly as you expect, it will force the system to expend more energy to warm your home, and result in significant problems accordingly. Low air flow can also mean that hot air is trapped in the system, which could cause important components to overheat.
Strange Noises. Strange noises quality as anything you don't recognize as part of the heater's normal functioning. That can include bangs, hums, whirs, moans or anything else that sounds odd. In most cases, those noises will start and stop with the starting and the stopping of the heater itself.
Higher Bills. A problem with your heater needn't necessarily show any outward signs of problems. But a malfunctioning component can cause the system to use up more energy than it should: causing your bills to take a spike despite the fact that you're not using your heater and more often than normal. If your monthly bill is unexpectedly high, it might be a sign of serious trouble.
If you spot these signs, turn off your system and call in a repair service immediately.
For quality heater repairs throughout the Plano, TX area, call Hutchins Plumbing & Air Conditioning today!