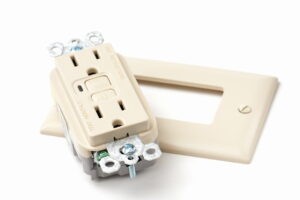 Your home is your sanctuary, and it's important that you get to live life the way you want to, right?
We want homeowners to be able to live both comfortably and safely in their own homes, and this includes proper electrical work that will stand the test of time. GFCI protection isn't just a nifty new acronym that young people are using, it's a term that relates to a huge advancement in electrical engineering in the past few decades. If you've got a kitchen or bathroom that sees its fair share of water, then your outlets should absolutely be GFCI protected by an electrician in Plano, TX.
We're not going to force anyone to convert their outlets to be GFCI protected, but we would like to share why it might be advantageous to purchase this upgrade!
What Is GFCI Protection?
Let's start with the basics. GFCI stands for ground fault circuit interruption, and it's basically a type of outlet that can be installed anywhere in your home. They don't really make that much of a difference except for in kitchens, bathrooms, and other areas that see the use of water. GFCI outlets are a huge improvement in those places because they are grounded and can interrupt a power surge that is caused by an unsafe situation. For instance, if your outlet or a plug in your outlet comes in contact with water, the GFCI outlet will simply disconnect the power source so that you won't be in danger of experiencing an electrical shock.
The "Reset Button"
So, what happens when your GFCI outlet disconnects to avoid a fire or safety hazard? It's simple! The outlet automatically interrupts the connection, and all you have to do is press the "reset" button on the outlet. This will restart the electrical connection and allow you to use your outlet without fear of a safety hazard occurring!
GFCI Protection for Bathrooms and Kitchens
The real reason why we want more awareness of GFCI outlets in homes is because of their utility in bathrooms and kitchens. These areas can see water splashes and leaks at any time and we're firm believers that your family should never be in danger of being electrocuted.
Call our team for an evaluation to see if your home would be perfect for a GFCI protected outlet upgrade. We'll be sure to let you know if that's something that can benefit you and your family.
Your Other Outlets Should Be Grounded As Well
Let this be an opportunity to also investigate your other outlets! At this point, modern homes should have grounded outlets (three-pronged outlets) throughout the entire home. They're safer and save you money by protecting your devices from being damaged by power surges. If you're finding your outlets are using too many adapters and your home isn't properly grounded, give our team a call for professional electrical support.
Contact Hutchins Plumbing & Air Conditioning to have your outlets replaced by ones that are safer and more effective. Get it done right… Right now!