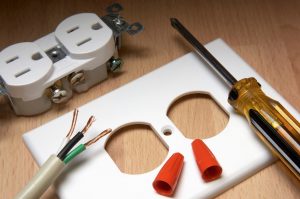 DIY projects are certainly trendy, and you may want to try your hand at making home repairs yourself without calling a professional. Although there are small projects you can probably handle yourself, there are times when a professional is the only one you should hire for the job.
This is especially true when it comes to electrical work. And there are five common electrical jobs for which you should always call a professional electrician. And if you need an electrician in Allen, TX, our team is the one you want to call. We have vast experience and knowledge, plus all of the proper licensing and certifications to get the job done right the first time.
Breaker Panel
Anything related to your breaker panel should be left to the certified electricians. This includes repairs, upgrades, and replacements. You may have a breaker that trips regularly that you think is an easy fix. But there could be more than you think at play. A certified electrician can assess the situation and investigate the cause of the issue. The problem you see may be the result of something else that needs to be fixed to prevent it from happening again in the future.
Home Wiring
If you renovate your home, you may be tempted to rewire some things yourself. After all, isn't it simple enough to extend your existing wiring? It's really not. It's possible that you could overload your circuits or install the new wiring incorrectly. Doing just one tiny thing wrong has the potential to lead to a fire hazard. Plus, any new wiring in your home has to pass an electrical inspection eventually. A DIY project could wind up being a costly, electrical repair project down the road.
Adding Outlets
When we talk about wiring, we are talking about outlets, too. Sure, there are wires running all through your home. Shouldn't you be able to cut into a wall and add an outlet wherever you want? Unfortunately, the answer is no. Your home's circuit breakers are designed to handle a certain amount of energy. Adding another outlet and plugging in more appliances or technology could overload your electrical system.
Light Fixtures
You may not think of your light fixtures as being electrical, but they are wired into your home. Before you change out a light fixture or install a new one, you should consult with a professional electrician. Installing a light fixture incorrectly can lead to a variety of problems such as circuit breakers tripping, bulbs burning out too fast, fire risks for your home, and even damage to your home's electrical system.
Lighting Outside
The lighting fixtures that are outside your home are even more unique than the ones inside your home. After all, these electrical systems have to be weatherproof. Exposure to the sun, wind, and rain can do a lot of damage. It is more important to make sure that the job is done right. Otherwise, you could cause costly damage to your home.
Get it done right… Right now! Schedule an appointment today for your electrical services.