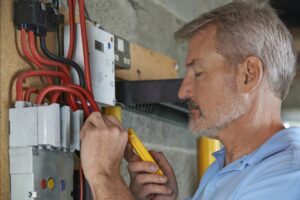 Let's face it, you're not really interested in all of the risks that come with DIY electrical work. From the safety hazards, to the risk of breaking your home's electrical grid and appliances, it's just never worth it. But we understand the sentiment that homeowners want to be involved in their home's energy system, and if you're open to learn then we're here to teach!
It's actually very important that you stay at least somewhat involved in the inner-workings of your home's electrical system. While you shouldn't do the repair work yourself, you should at least know some basic terminology and ways to improve your energy grid from a financial and homeowner's perspective.
So, make sure you contact an electrician in Allen, TX, then continue reading this blog post for some info on how you can stay involved in the process of home electrical repair.
Ask Us for Help
First of all, you're only going to be able to know what really needs to be done from working with a professional. The first step, as always, should be to call our team for support. Then, with these three tips, you can get a feel for how extensive this work is going to be.
Map Out What Needs to Be Done
One way you can help with DIY electrical work is by mapping out the extent of what's going to be done. For instance, if you're dealing with tripped circuits that are constantly causing you problems, you could investigate what might need to be done for this to be resolved. Perhaps your old fuse box should be updated with a high-capacity electrical panel. Or maybe your circuits need to be replaced. You could always take a look at the characteristics of your home energy system, as long as you don't touch anything.
Measure the Energy Consumption of Your Home
If you're dealing with a problem in your home's energy system, it could be from too much energy consumption. If your home needs an upgrade, you can figure this out yourself by looking at the energy needs of your appliances. It's never a bad idea to have energy bills on hand so you can present to a professional how much electrical energy you use on a monthly basis. This should give them some idea as to what should be fixed, replaced, or upgraded.
Make Things Easy to Access and Know Your Home's Layout
Lastly, an electrical professional is only going to be able to help you if they can access your home's energy system. Sometimes that's impossible for you to help with, since many wires and electrical systems are contained within walls and floors. However, if you've got old luggage or furniture that's blocking the way to the electrical panel, you'll need to move them so a professional can address the problem.
Likewise, it's never a bad idea to do some cleaning beforehand so the electrician can get straight to work. The less dust, dirt, and cobwebs are on your home's energy system, the easier it will be for a pro to detect the problem and fix it.
Contact Hutchins Plumbing & Air Conditioning for high-quality electrical work today. Get it done right… Right now!