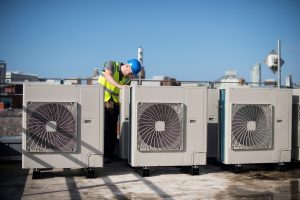 If you own a business or manage an office space, you know how important it is to keep your space comfortable. That means not only having a quality commercial air conditioning system installed, but choosing the right team to keep it maintained and perform repairs when the need arises. That's trickier than it sounds, and certainly more complex than handling a residential air conditioning system. The team you choose to take care of your system can play a huge role in the day-to-day functions of your business.
Not Just "Like Your Home, But Bigger"
Commercial HVAC systems usually have to cool a much larger space than most residential systems do. Office buildings can extend multiple stories, while retail space and other commercial buildings can encompass thousands of square feet. But that's just the start. Many businesses have specific needs for their air conditioners, such as keeping storage areas cool and ensuring that key components like computers don't overheat. That extends to all aspects of a given business, regardless of the type of business they happen to be in.
But it goes beyond that. In a residence, if the air conditioner runs into trouble, you can conceivably turn it off and hunker down for a few days until a repair service can arrive. That's simply not possible with a business. A loss of air conditioning for even a few hours could render the space unusable in the heat of the summer. Customers will stay away, or at least leave with a distinctly negative impression of the place; employees will need to work under difficult conditions and may even need to be sent home in the worst cases; and vital components of your business such as stored products and computer hard drives could be placed in serious jeopardy.
The majority spend most of our days in a commercial space of some kind: an office building, an industrial workplace, a retail space or a school. That means our commercial air conditioning systems need to keep us cool and comfortable in the face of our hot Texas summers. Reliable commercial air conditioning is simply too important to leave to an unqualified service.
What to Look for in a Commercial Service
So what kinds of things should a commercial service provide? Specifics vary depending on the needs of your business, but you should definitely keep an eye out for the following features:
Practical Experience. Commercial systems come in a wide variety of makes and models, and no single system is quite like any other. Any commercial service that works on your system needs the experience to handle a wide variety of issues, not just a few basic ones.
24/7 Services. Emergency services are sometimes necessary, since you can't leave your space without a working AC for very long. But emergency services also lets you schedule repairs after hours, when the technician can work without disrupting day-to-day operations.
Up-Front Estimates. Any good business gets its estimates in writing beforehand, so there are no surprises waiting when the work begins.
In Sherman, TX top-notch commercial air conditioning services can be performed by the experts at Hutchins Plumbing & Air Conditioning.