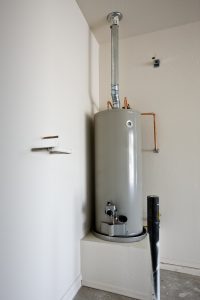 Water heaters are an essential part of modern life, providing clean hot water for cooking and cleaning at very little cost. They do their jobs quietly for the most part, and stay out of the way in spots like the basement or garage where you don't have to think about them very often. But water heaters run into trouble from time to time like any other appliance in your home, and owing to their quiet nature, you may not spot the signs until it's far too late to do anything about them.
The solution is timely water heater maintenance, performed by a trained plumber once a year. A maintenance session isn't a repair job. It's more of a tune-up, designed to check the system over for any problems, and make timely repairs when necessary. It includes flushing the tank out to remove sediment, replacing the anode rod when necessary (preventing rust) and checking the system for any little issues that may turn into big ones if you let them. Spring makes an ideal time to schedule water heater maintenance, when we typically clean our homes after the winter and engage in yardwork to take advantage of the warmer weather. There are a number of benefits to you household to doing so, and we've laid out three of the most important ones below.
1)   It Catches Problems Early
As we intimated before, a maintenance session on your water heater allows you to catch problems while they're still forming and schedule a repair service if necessary to correct them. That makes a huge difference with water heaters, since by the time the damage normally makes itself known, it's become quite extensive: meriting a full-bore replacement instead of simple repairs. Catching problems early usually saves you on the cost of repairs, as well as allowing you to schedule repairs according to your timetable, instead of scrambling to deal with an emergency.
2)   It Increases the System's Longevity
Replacing the anode rod, flushing the tank and other maintenance steps will help cut down on the effects of wear and tear. As a consequence, your water heater will last longer than it might otherwise, and delay the day when you'll need to get it replaced. When you apply maintenance session regularly over the water heater's life, that can add up to months or even years of extra use.
3)   It Cuts Down on Monthly Bills
An inefficient water heater can cost more to run than one which has those little issues corrected and adjusted. Timely maintenance means that your system will run without costing as much energy, which can save you a great deal of money on bills. It also helps ensure that you get the most out of your water heater, by allowing for more hot water running for longer periods of time.
Here in Plano, TX, water heater maintenance, repair and installation services can be performed with professionalism and pride by the friendly staff at Hutchins Plumbing & Air Conditioning. Give us a call today to set up an appointment!