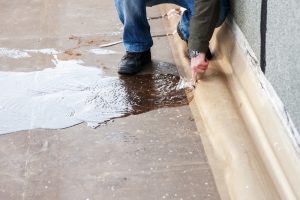 Plumbing leaks can do massive damage when gone unchecked for too long. Of course, just because they do damage doesn't mean they always look like it. Many leaks from unexpected places.
One such place is at the ground, or even beneath the ground. Since many homeowners may not have encountered these kinds of leaks before, we wanted to cover them in today's post. If you encounter any of these leaks, you will need to call a plumber in Plano, TX.
Underneath Kitchen and Bathroom Sinks
Leaks that develop in these places might not be apparent, at first—usually because there's a cabinet door in the way! A minor leak in these areas will be difficult to notice until you go down and take a real good look.
If you have any suspicions, we recommend using a flashlight to detect any moisture around the pipes, as well as to check the bottom for any signs of water damage. You most likely have plenty of bathroom supplies in here, so remove them and check for dampness, stains, mold, or other signs of damage.
Underneath the Ground
While some water damage under the sink is easy to overlook, a leak coming out of the flooring is not something you're going to miss. Plus, this is a sign of a slab leak, which is a much bigger problem than a simple pipe replacement. You're going to want to call it in as a plumbing emergency.
Slab leaks will rise up from below the ground and above the concrete slabs that form the foundation of your home. Some of the places that take a toll from this include:
Wood and Laminate Floors: These materials are susceptible to water damage. If they suddenly start warping and there's no obvious reason for it, then it could be due to a slab leak just beneath the floor.
Carpeted Areas: Since carpet isn't going to warp, it might be harder to detect when a leak is developing. However, you should notice dampness and—if it goes on for too long—the smell of mold or mildew.
Concrete and Tile Flooring: Areas of the floor that are not covered with carpet or flexible flooring will simply begin to crack as the foundation shifts beneath them.
Wet Spots in the Yard: Not all underground leaks will happen beneath your house (of course, this would actually be a good thing, in comparison). However, this can make them harder to notice. A sewer line or main water line can develop a leak within your yard, thus creating damp puddles.
What to Do Next
You might not be surprised that we're asking you to do this, but you should call a plumber! Minimizing leaks is all about urgency. As soon as you notice a leak forming, you'll want to have it taken care of immediately. Trying to find a leak without any experience will result in wasted time (which equals more money and more damage).