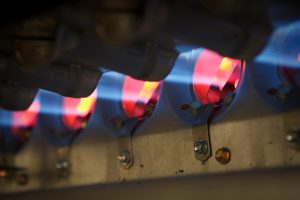 Winter is on its way, and we're already experiencing the drop in temperature that comes with the season. Soon, you'll be running your heating system every day. The last thing you want to deal with is an unexpected breakdown just when the weather takes a turn for the freezing. That's why we recommend a furnace servicing session now, before the weather gets much colder. It can provide a number of benefits to your home, and help your system handle the winter much more easily.
What Is It?
A service plan most closely resembles a tune-up for your car. The technician takes a long look at your heater and carefully checks for any signs of trouble, both large and small. In the event something crops up, it can be addressed as part of the service session, provided it's comparatively small (unclogging a dirty burner, for instance, or tightening a loose bolt or screw). If something more substantial is called for, the technician can schedule repairs at a time that is convenient to you. If the proper equipment is on hand (and in most cases, it is), the repairs can even be conducted immediately upon completion of the servicing session.
What Kind of Benefits Does It Provide?
There are three tangible benefits to a servicing session, which help your heater out in the short term and the long term alike.
Lower Bills. Fixing little issues like clogged burners means that your system will function more effectively in the winter. Not only will monthly bills drop, but reduced strain on your system means that it will suffer from less wear and tear (especially when you schedule servicing sessions once a year).
More Effective Repairs. Reduced wear and tear means reduced risk of further breakdowns and a good way to stop repair issues before they start. Furthermore, by catching existing problems early, you can usually contain the damage caused by the issue in question, since it won't have as much time to spread and affect more components. On top of that, getting an early jump on repairs means that you can schedule them at a time that is convenient to you, instead of rescheduling important parts of your life to accommodate an unexpected breakdown. And of course, it allows you to rest easy during the remainder of the winter, knowing that potential problems have been taken care of.
Longer Life for the System. When applied regularly over time, maintenance sessions can keep the system functioning at its peak for much longer than it would without such attention. Not only does that reduce the cost and frequency of repairs later in the heating system's life, but it can postpone the day you need to replace your heater by months or even years in some cases. Considering the potential costs of buying a new furnace, the extended savings can add up to quite a bit.
If you haven't scheduled a maintenance session for the heater in your Plano, TX home in the last 12 months, call on the experts at Hutchins Plumbing & Air Conditioning today to make an appointment!