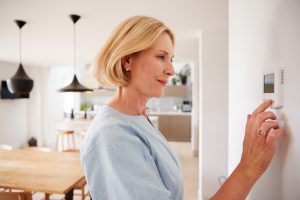 Air conditioning is less of a type of machinery and more of a lifestyle. Many homeowners like to pretend they don't have a complex system keeping their home cool all summer or fall long, while the air conditioner toils away being neglected. The more you come to terms with the fact that this is a partnership between you and your air conditioner, the better off you can be.
So, as we help to better this partnership between you and your air conditioning in Plano, TX, we've listed some best practices to owning a system like this. These are great tips to follow along with, regardless of your familiarity with your air conditioner. We promise that by following these best practices, you'll see some demonstrable results that make your AC last longer and perform better. As your local HVAC service provider, we know what we're talking about.
Pay Attention!
We get it, this subject can be boring. But we promise after you start saving money from improved efficiency levels, you'll be asking us for more AC tips! It can be a good idea to write these ideas down or save them on your computer so you can look back and reference them when you're in the mood to be a responsible AC owner.
1. Manage Temperatures Correctly
Did you know that your air conditioner isn't supposed to cool things down beyond 20 degrees below the outside temperature? Sure, you might be able to squeeze a couple of extra degrees from it, but it's not going to be worth the excess energy consumed and the stress you put on your system. Keep your indoor temperature reasonable and your system will last surprisingly long!
2. Clean the Air Filter
The air filter in your air conditioner is meant to be changed every 1-3 months. There really isn't an exception to this rule. We don't care if your home is extraordinarily clean of dust or dander, your air filter will certainly need to be cleaned eventually. Luckily, it's not that hard to do and only takes about 5 minutes!
3. Use a Ceiling Fan
Ceiling fans are great, energy-efficient ways to cool your home down without needing your air conditioner's help. When working together, you can cool things down more efficiently and effectively than when they're working individually.
4. Schedule Maintenance
AC maintenance can be a vital service. It's meant to keep efficiency levels high, address problems that could turn into repairs soon, and overall give you a status on your system's condition.
5. Call Quickly for Repairs
The faster you call a team for repairs, the better off you'll be. Letting your air conditioner work when it's struggling is just a disaster waiting to happen.
6. Look for Irregularities
Do you smell something funky wafting from your air conditioner? Or perhaps it's making a really odd noise? These are irregularities and warrant a check by your trustworthy AC technician.
7. Put It Away at the End of the Season
Don't just turn your AC off and call it a year every fall. Take good care of your system. Cover it up, keep the outdoor component clean, and make sure you get it maintained when spring arrives.
Hutchins Plumbing & Air Conditioning can help. Just give us a call. Get it done right… Right now!